AirPods and AirPods Pro are both excellent wireless earbuds from Apple, but they have some key differences. Here's a comparison of the two to help you decide which one is right for you
| Feature | AirPods | AirPods Pro |
| --- | --- | --- |
| Design | Similar to wired EarPods | Shorter stem, in-ear design |
| Size and Weight | Light and compact | Slightly larger, slightly heavier |
| Fit | Universal fit | In-ear design with silicone tips |
| Active Noise Cancellation (ANC) | No | Yes |
| Transparency Mode | No | Yes |
| Customizable Controls | Limited | Customizable touch controls |
| Sound Quality | Good, but not as immersive | Richer and more immersive sound |
| Battery Life | About 5 hours (24 hours with case) | About 4.5 hours (24 hours with case) |
| Water and Sweat Resistance | Not officially rated | IPX4 water and sweat resistance |
| Wireless Charging | Optional wireless charging case | Wireless charging case included |
| Price | Generally lower | Higher |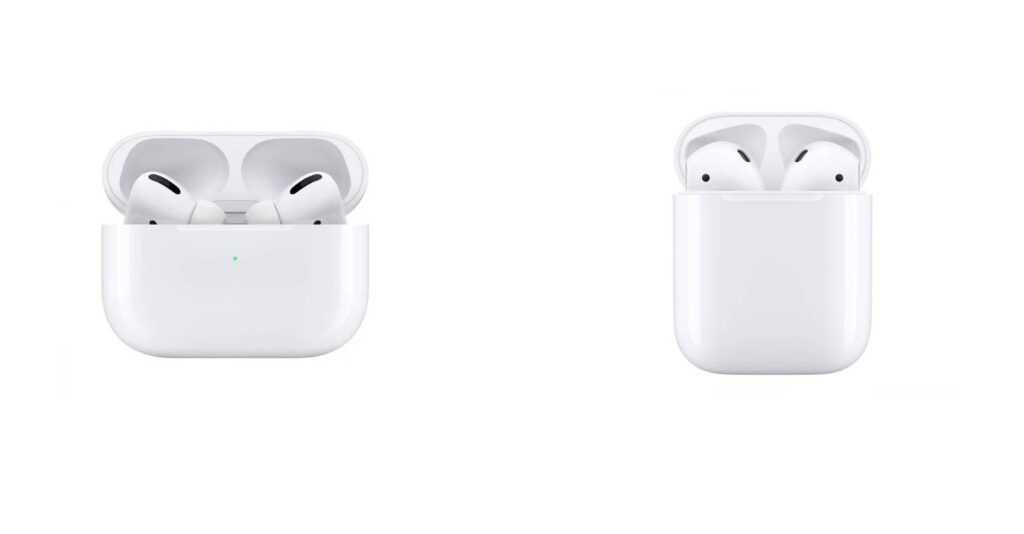 AirPods vs AirPods Pro:Design
The AirPods have a design that is similar to the traditional wired EarPods, with a longer stem that extends downwards from the ear.
The AirPods Pro, on the other hand, have a shorter stem and a more compact, in-ear design with silicone tips for a snug fit.
AirPods vs AirPods Pro:Size and Weight
The AirPods Pro are slightly larger and heavier compared to the standard AirPods. However, both remain lightweight and portable.
AirPods vs AirPods Pro: Fit
AirPods provide a universal fit, while AirPods Pro come with in-ear tips, providing a more customized and secure fit.
AirPods vs AirPods Pro: Active Noise Cancellation (ANC)
One of the significant differences is that the AirPods Pro feature active noise cancellation, blocking out external sounds for a more immersive listening experience. The standard AirPods do not have ANC.
AirPods vs AirPods Pro:Transparency Mode
AirPods Pro also come equipped with Transparency Mode, allowing users to hear ambient sounds while still listening to music or taking calls. This feature is absent in the standard AirPods.
AirPods vs AirPods Pro:Customizable Controls
AirPods Pro have touch controls that are customizable based on user preferences, providing more flexibility compared to the limited controls on the standard AirPods.
AirPods vs AirPods Pro:Sound Quality
The AirPods Pro offer a richer and more immersive sound experience, thanks to their in-ear design and active noise cancellation capabilities.
AirPods vs AirPods Pro:Battery Life
Both AirPods and AirPods Pro offer similar battery life, with approximately 4.5 to 5 hours of listening time on a single charge. The charging case provides additional hours, bringing the total battery life to around 24 hours for both models.
AirPods vs AirPods Pro:Water and Sweat Resistance
While the standard AirPods are not officially rated for water or sweat resistance, the AirPods Pro have an IPX4 rating, making them resistant to water splashes and sweat.
AirPods vs AirPods Pro:Wireless Chargin
Wireless charging is optional for the standard AirPods, requiring a separate purchase of the wireless charging case. The AirPods Pro, however, come with a wireless charging case included.
AirPods vs AirPods Pro:Price
Generally, the AirPods Pro are priced higher than the standard AirPods due to the added features such as active noise cancellation and a more advanced design.
In summary, the choice between AirPods and AirPods Pro depends on individual preferences and priorities. If you prioritize active noise cancellation, a more secure in-ear fit, and additional features like Transparency Mode, the AirPods Pro may be the better option despite the higher price tag. However, if you prefer the classic AirPods design and do not necessarily need the advanced features, the standard AirPods offer a more budget-friendly option.